Facilitating Second Language Acquisition
"You can't make your child speak a language, but you can set the stage so they will want to speak it." – Kendall King and Alison Mackey, Bilingual Edge.
Tabor first identified the double-bind of second-language learning in 2008. He writes, "to learn a new language, you have to be socially accepted by those who speak the language; but to be socially accepted, you have to be able to speak the new language."
How do you support the English Learner when teaching commences? How do you facilitate the learning process when the student is not aware a learning process has begun? We now know that cultural responsiveness can make a huge impact on the learning process. When the classroom environment is set up for success, learning can then follow. To facilitate these milestones, rather than teach, means to focus on the learning process and allow the student to lead the way to learning. This can be a difficult process, but in some ways more effective than teaching or "giving instruction" because students can rely on vehicles other than language to perceive what is expected of them.
Cognitive Academic Language Proficiency
When it comes to standardized testing like TELPAS, or the reading, writing, listening, and speaking requirements of sufficient language acquisition, Cognitive Academic Language Proficiency (CALP) is necessary, and will be measured.
CALP differs from Basic Interpersonal Communicative Skills (BICS) in that it is "language students need in order to think critically, understand and learn new concepts, cognitively process complex academic material, and interact and communicate in academic contexts" according to the TEA TELPAS Educator guide.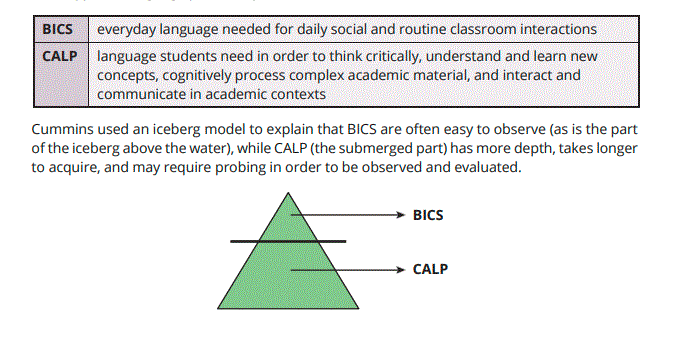 To get that learning off onto the right foot, research educators understand the following components to be integral to facilitating CALP.
Comprehensible input
Contextualized Instruction
Creating a low anxiety classroom
Providing opportunities for meaningful engagement in learning activities
So, back to the double-bind problem of language learners. How can teachers in the classroom facilitate higher ordered language acquisition while keeping students involved, accepted, and a part of the solution? Let's take a look at each component and how to incorporate it into daily activities for optimal outcomes.
Comprehensible Input – Comprehensible Input means that the students must understand what is being taught. This component HEAVILY relies on visual aids, facial expression, and pictures. A picture is worth a thousand words, as the saying goes, and this is a great place to start. To facilitate this process, the material must be simple, and it must be familiar. Remembering to have materials from the student's culture of origin can aid greatly with comprehensible input. For example, using a Spanish big book during shared reading allows for visual aids, familiar phrases, and opportunities to listen to others' reactions and commentary in a facilitated reading. (watch our how-to video here).
Contextualized Instruction – This means taking key vocabulary and making connections to new vocabulary, or new concepts. In an earlier post on cognitive learning strategies, research shows that using flashcards for vocabulary and visual aids can be a huge source for word retention and a solid starting point. Word banks, vocabulary lists, and fill in the blanks can help with facilitation. Using familiarized vocabulary from books can aid in making contextual connections.
Creating a low anxiety classroom – A low anxiety environment is essential to building academic proficiency. Familiar words, phrases, or pictures may help in including each student, as well as clearly depicting what the activity is, with a small chance for failure. This means creating clear expectations and rewards for cooperative learning.
Providing opportunities for meaningful engagement– English Learners need to be provided with opportunities to read, write, listen, and speak in a meaningful way. There needs to be a means to an end with their thought process or reasoning skills. Using simple prompts, or tools like Conversation Starters, students are able to engage with a safety net of context, without specifically being taught how to solve the problem or answer the question. Since the writing portion of TELPAS is generally more driven by internal thought processes and personal narration, it is essential to allow the student to engage and solve problems in a formulaic fashion rather than for each instance or prompt they may encounter.
Second Language Acquisition can be a complex, cumbersome process. But it can also open up new avenues for understanding difficult concepts for English Learners. It also shows that, when given opportunities to learn with these components in mind, not only do English Learners thrive, but native speakers do as well.
At the end of the day, as is with most of human nature, when people are given the freedom for expression with a natural order to their environment, they can blossom.